Flea is a heavyweight robot created by Diotoir himself. It was an cone shaped robot with a cutting disc, spinning bar and spikes, it lost in its only battle.
Robot History
Edit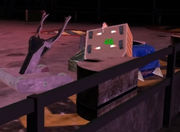 In its battle, Flea faced the runners up Big Nipper, returning The Steel Avenger and newcomer Lightning. In the fight, Flea rushed in and attacked The Steel Avenger, who in turn axed it with the bladed axe, the axe caused heavy blows and managed to knock off an eyebrow and completely destroy the spinning bar and motor. As Big Nipper was attacked by Lightning, The steel Avenger rammed Flea into the second seeds and their opponent only for Flea to get away. The three robots all managed to push one another into the opposite side wall, where Big Nipper with the help of Lightning attacked the isolated Flea and with the claw lifter, Big Nipper toppled Flea over and out.
| Series | Event | Round | Opponent(s) | Result |
| --- | --- | --- | --- | --- |
| Series 2 | Heat H | Eliminator | Big Nipper (2) | Eliminated |
Wins/Losses
Edit
Ad blocker interference detected!
Wikia is a free-to-use site that makes money from advertising. We have a modified experience for viewers using ad blockers

Wikia is not accessible if you've made further modifications. Remove the custom ad blocker rule(s) and the page will load as expected.