Hurricane is a competitor in the games Robot Wars: Arenas of Destruction and appeared in Extreme 2 of Diotoir's Wacky Rumbles.
Robot History
Edit
Extreme 2
Edit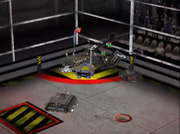 It fought in the Capture the Flag special against Terrorhurtz, Mortis, Robotica, Beckatron and De Bunker. All the robots, bar Beckatron and Hurricane, smashed into the center of the arena as the flag spins away into the side wall. Hurricane and De Bunker use their blades to damage Robitca who was being pushed, while Terrohurtz attempts to hit the backend. Mortis and Beckatron push the coupled robots into the CPZ. All of the robots swarm the CPZ in attempts to get the flag, De Bunker and Robotica suffer heavy damage as Hurricane is thrown out of the arena by the sheer force of all the robots mashing into one another.
Wins/Losses
Edit
Ad blocker interference detected!
Wikia is a free-to-use site that makes money from advertising. We have a modified experience for viewers using ad blockers

Wikia is not accessible if you've made further modifications. Remove the custom ad blocker rule(s) and the page will load as expected.