Manta is a heavyweight robot armed with a powerful flipper. The real robot was created by Team Shock.
Robot History
Edit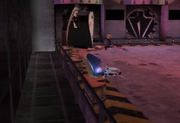 Manta fought in the first Heat of the first series, where it fought Gripper, Big Nipper and TX-109. Manta started off strong, charging towards Gripper, flipping it over almost immediately while being chased by TX-109. As all four robots battled one another, Manta flipped Big Nipper before being attacked by TX-109, but Manta gets away a steers around TX-109 getting in behind and flipping the robot out of the arena. Now with only three robots remaining, Big Nipper begins to attack Manta damaging the underbelly. Manta attempts to escape and flips Gripper back over causing both Big Nipper and Gripper to gang up on Manta. With both robots ganging up on Manta, it was beginning to get severely damaged and was unable to get away. Manta manages to get away while smoking, which caused Big Nipper and Gripper to fight one another. Manta came back to the action and flipped both machines a couple of times. All three robots chase one another but none getting any attacks, but soon Big Nipper slashes the underbelly of Manta and, with assistance of Gripper, manages to knock Manta out.
Manta is set to return.
| Series | Event | Round | Opponent(s) | Result |
| --- | --- | --- | --- | --- |
| Series 1 | Heat A | Eliminator | Big Nipper | Eliminated |
Wins/Losses
Edit
Ad blocker interference detected!
Wikia is a free-to-use site that makes money from advertising. We have a modified experience for viewers using ad blockers

Wikia is not accessible if you've made further modifications. Remove the custom ad blocker rule(s) and the page will load as expected.