TX-109 is a grey wedge-shaped robot with a vertical hydraulic crushing arm as its weapon. The real robot was created by Team Terrafonics also known as Team Danby.
Robot History
Edit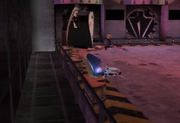 It fought in the first Heat against Manta, Gripper and Big Nipper. TX-109 first went after Manta who chased Gripper. As all four robots battled one another, Manta flipped Big Nipper over while TX-109 runs away from the battle only to join it once more. Gripper laid unable to self right, meanwhile, TX-109 grabs hold of Big Nipper crushing down on it. TX-109 moves away from Big Nipper and soon tries to crush Manta, but Manta gets away a steers around TX-109 getting in behind and flipping the robot out of the arena.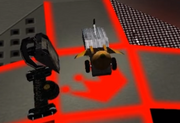 Despite not competing in the main series it did compete in the side event, King of the Hill against Trolley Rage, Lucid Dream and The Great Pumpkin. As it went up the ramp, Lucid Dream attacked and toppled TX-109. TX-109 laid immobile for some time, until The Great Pumpkin came back and accidentally helped TX-109 in order to attack Trolley Rage, this time pushing them backwards. TX-109 was in the spike pit but managed to get away and come back into the action. Trolley Rage is attacked by TX-109 and crushed by the claw, holding it tight, but The Great Pumpkin soon came back and clashed with the other two live opponents. Taking a stand, The Great Pumpkin stayed in the middle allowing for both TX-109 and Trolley Rage to fight one another, this also allowed for The Great Pumpkin, who already was in the lead, to get more points. TX-109 came back and charged at The Great Pumpkin knocking it which caused The Great Pumpkin to be dazzled and drive off the edge again. TX-109 continued to crush Trolley Rage while The Great Pumpkin came back and with TX-109 cornered Trolley Rage, pushing it off. TX-109 spent the remainder of the fight attacking Trolley Rage and The Great Pumpkin, eventually losing coming third.
| Series | Event | Round | Opponent(s) | Results |
| --- | --- | --- | --- | --- |
| Series 1 | Heat A | Eliminator | Manta | Eliminated |
| Series 2 | King of the Hill | | Trolley Rage | Lost |
Wins/Losses
Edit
Side events such as Sumo and King of the Hill do not count
Ad blocker interference detected!
Wikia is a free-to-use site that makes money from advertising. We have a modified experience for viewers using ad blockers

Wikia is not accessible if you've made further modifications. Remove the custom ad blocker rule(s) and the page will load as expected.