The Bullock is a competitor in the games Robot Wars: Arenas of Destruction and appeared in Extreme 2 of Diotoir's Wacky Rumbles.
Robot History
Edit
Extreme 2
Edit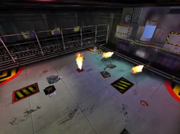 In its battle it fought Terrorhurtz, Behemoth, Robotica, Chaos 2 and The Axe Master. Chaos 2 charges into position and chucks Robotica over but reveres quickly, knocking them back over, while Behemoth lifts Terrorhurtz and The Axe Master runs away from the main battle. The Bullock slowly turns as Chaos 2 gets around the side and flips it over, meanwhile the rest of the competitors chase the flag into Matilda's CPZ and almost topples her.
Wins/Losses
Edit
Ad blocker interference detected!
Wikia is a free-to-use site that makes money from advertising. We have a modified experience for viewers using ad blockers

Wikia is not accessible if you've made further modifications. Remove the custom ad blocker rule(s) and the page will load as expected.